Win the chance to bring your loved ones home for Christmas!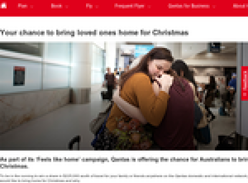 QANTAS
Added: 17-Nov-14
Closes: 23-Nov-14
WHO CAN ENTER?

Entry is open only to Australian residents, 18 years and over (Eligible Entrants), excluding directors, management, employees and their immediate families of the Promoter and its related bodies corporate and registered travel companions of employees of the Promoter and its related bodies corporate.

PROMOTIONAL PERIOD:

All references to time in this document are a reference to the local time in Sydney, New South Wales, Australia on the date stated. The promotion commences at 12.01am on Sunday 16th November 2014 and closes at Sunday 23 November at 23:59 (Promotion Period).

HOW TO ENTER:

To enter, Eligible Entrants must during the Promotion Period:
a) Complete the online entry form at qantas.com/feelslikehome, including entering the following details:
i. First name
ii. Last name
iii. Email address
iv. Phone number
v. Qantas Frequent Flyer number (if they are a member)
vi. State how they found out about the promotion from a dropdown of options (one for each state, news.com.au and Qantas Frequent Flyer email)

b) Answer the following question in 100 words or less:
"Who you would like to bring home for Christmas and why?".

PRIZES:

There will be at least nine Prizes sharing in the total prize pool value of AU$225,000.

Each prize winner will win return flights for the person(s) nominated in their answer to the question above from the Qantas operated port closest to the place of residence of the person(s) to the Qantas operated port closest to the winner's place of residence so they can spend Christmas together.