Win the experience of a lifetime!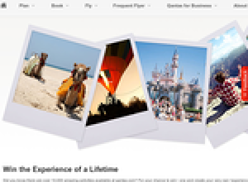 QANTAS
Added: 14-Jun-13
Closes: 30-Jun-13
To enter Eligible Entrants must, during the Promotion Period;

a) Make a new booking for a Qantas flight at qantas.com
b) Choose or nominate an activity or experience at qantas.com/activities
c) Complete the entry form on qantas.com/windream and enter a flight booking confirmation number, a nominated activity and the applicable activity code.
d) Submit

The prize will include:

a) The nominated Qantas Activity for a family combined of up to 2 adults and up to 3 children.
b) Return economy airfares for a family comprising of up to 2 adults and up to 3 children to the destination of the nominated activity, flying Qantas, Qantas Code Share and or another airline at the discretion of Qantas (flight associated taxes are included). Return airfares will be valid from the winner's nearest Australian capital city.
c)Accommodation (to a maximum 4 star level) is at the discretion of Qantas and will be provided by Qantas if the nominated activity does not include accommodation.