Win the ultimate family holiday to New Zealand!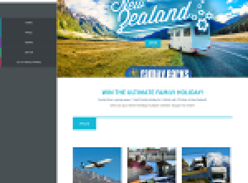 Family Parks
Added: 04-Apr-16
Closes: 30-May-16
WHO CAN ENTER?
Must be over 18 years of age or older.
Must be an Australian or New Zealand resident.
Winner and family members/travellers must hold a valid passport and travel documents
Winner must provide full name, phone number, email, age, and postcode at win.familyparks.com.au with entry to prove eligibility.
Winner will be required to show valid ID to prove age and eligibility.
By entering the competition you agree to receive the Family Parks monthly travel tips & deals e-newsletter. (You can unsubscribe at any time)
Employees and the immediate families of Family Parks Limited, and their associated agencies and companies are not eligible to enter. Competition is open to families of park operators or owners.
PROMOTIONAL PERIOD:
PRIZE:
Only one prize is available to one winner.
The prize will include:
Up to $2000 AUD in cash or flight vouchers (to be determined by Family Parks)
Up to 6 powered site nights and 2 family cabin nights at any New Zealand Family Parks locations
7 day – Minimum 4 Berth – Apollo Motorhome Hire
Return Bluebridge Cook Strait Crossing, valid for 1 motorhome, including 2 Adults and 2 Children (valued over $900NZD)
2 x $50(NZD) Coffee Club New Zealand Vouchers
A 2hr Waikato River Tour provided by Canoe & Kayak Taupo (valued up to $196NZD)
One Driftkart & One 30 minute Blokart Session (valued up to $220NZD)
A 6 ride Agroventures Family Parks (valued up to $159NZD)
A 2 Adult (18+) Half Day, Wine/Art/Scenery Tour with Bay Tours Nelson, New Zealand (no children)
FLIGHTS
If the winner is an Australian resident, the winner will be given $2000AUD in cash or flight vouchers.
If the winner is a New Zealand resident, winner will receive $750NZD in cash or flight vouchers.
The winner must book their own flights and is responsible for ensuring valid passports and travel documents.
Winner is responsible for any additional costs, insurances, or other travel costs incurred.
ACCOMMODATION
Winner will be given Family Parks accommodation vouchers to the value of 6 powered site nights, and 2 night family cabin hire.
Accommodation must be booked direct with each preferred Family Park prior to travel or check-in and voucher must be mentioned on booking.
Vouchers are only valid for use at New Zealand Family Parks locations. Family Parks locations can be found on the website http://www.familyparks.com.au/
The Family Parks Vouchers must be redeemed by the expiry date printed on the vouchers.
The vouchers cannot be sold or exchanged for cash. Any unused value past the voucher expiry date will not be refunded.
Vouchers are not transferrable or redeemable for cash.
Accommodation at any Family Parks location is subject to availability.
The voucher must be mentioned at the time of booking and presented for payment on check in. If a stay exceeds the amount/value of the Family Parks Voucher used then the Winner must contribute the difference in value.
A voucher may be used in part or in full, any remaining balance on a voucher will be forfeited and cash will not be refunded in exchange for any unused balance.
The winner and their companions must abide by all terms and conditions set by the relevant Family Parks holiday park.
If the Family Parks Voucher is lost, stolen or destroyed, it cannot be replaced or refunded.
In the event of a query or a dispute in relation to the voucher or any accommodation purchased with the voucher, the Winner must contact Family Parks on 1300 855 707 or
[email protected]
Unless expressly stated in these terms and conditions all other expenses become the responsibility of the Winner.
APOLLO MOTORHOME HIRE
Must be booked minimum 3 weeks prior to travel
Valid for Euro Deluxe 4-6 berth camper hire or similar
Camper hire subject to standard availability
$250 security bond on credit card required to be paid by winner
Includes 1 way transfer fee if required and extra hire items as outlined on prize voucher.
Prize includes, 1x 7 day hire of an Apollo Euro Deluxe in NZ, Gas refill, up to 4 camping chairs, 1 camping table, GPS, extended roadside assistance, unlimited kms , diesel tax , toilet chemical (x5), baby/booster seats (on request child restraint policy applies).
Taxes/admin/ credit card fees/diesel tax and any optional extras not included above are payable by prize winner.
Prize to be used in one consecutive rental- any unused days are forfeit.
Refer to winner voucher AND website for full terms and conditions.
FAMILY PASSES AND ACTIVITY VOUCHERS
Children must be over 8 years to participate solo in Drift & Blokart sessions (tandem available)
Children must be over 140cm to ride drift karts.
Children must be present to use Familly Pass voucher at Agroventures
Bluebridge ferry crossing subject to standard terms of carriage & voucher must be presented/mentioned on booking.
Contact prize contributor direct or see prize partner websites for FULL T&C's.