Win the ultimate Great Barrier Reef experience!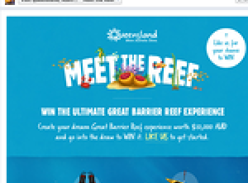 Tourism & Events Queensland
Added: 19-May-13
Closes: 11-Jun-13
To enter the competition you must:
(i) Go to https://www.facebook.com/visitqueensland;
(ii) Entrants who do not already "like" the Tourism and Events Queensland Facebook page must "like" the page to access the competition tab;
(iii) Follow the steps to create your own unique Great Barrier Reef experience;
(iv) Select one of the four characters: clown fish, turtle, whale or manta ray;
(v) Drag and drop two of the possible eight activities onto your character to create your ideal Great Barrier Reef experience;
(vi) Enter your full name, email address and country of residence;
(vii) Share your character via Facebook, Twitter or email for an extra entry.

Entrants will be entered into a random prize draw to win one major prize of an AUD$10,000 Flight Centre holiday voucher. The voucher may be used for booking travel to and from Queensland, which includes flights, accommodation, transfers and day tours. A suggested travel itinerary will be provided by Tourism and Events Queensland. Voucher terms and conditions apply.