Win the Ultimate U.S. Dream Holiday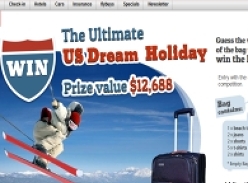 Webjet
Added: 15-Sep-12
Closes: 26-Nov-12
Starts 1:00pm on 3/09/2012 & ends at 11:59pm on 26/11/2012. Open to Australian residents 18+ who complete & submit entry form in manner required on www.webjet.com.au/webjet-competitions/ (as advertised). Max 10 entries per person permitted. Draw: 27/11/2012 at 11am at Promoter's premises.

Winners published: www.rocklive.com.au/competitions/winners before 6pm on 3/12/2012.

Prize includes: 2 x return economy flights to LA or San Fransisco flying United Airlines (Valued at up to $4,688),
1 x $5,000 Webjet voucher and 1 x $3,000 Ticketek voucher.

Total prize pool value: $12,688.

By entering, each entrant agrees to join Webjet and receive correspondence via email. Entrant also agrees that the Promoter may collect their personal information to enable it to provide the entrant with marketing materials by mail, telephone & electronic messages. By opting-in, the Promoter may share information with the Aust related companies & promotional partners selected by the entrant, who may also contact the entrant in this way. Promoter: Rocklive Pty Ltd, Suite 402, 275 Alfred Street North Sydney 2060. ABN: 85 139 261 822.